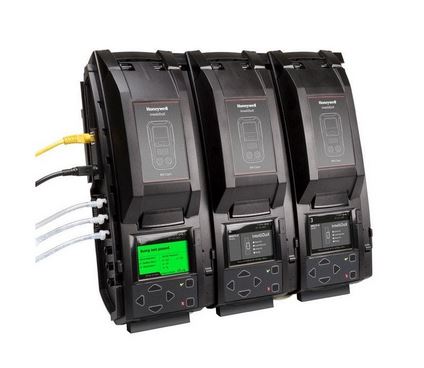 Greater productivity and efficiency
The IntelliDox system is cleverly designed to streamline instrument management and enhance productivity within your business. Setting up a five-module dock takes less than two minutes, and each module has its own operating system, LCD screen and internal pump. This unique feature allows you to perform multiple operations simultaneously - whether you need to bump test three detectors at once or calibrate others.

Flexible configuration to meet changing needs
We understand that as your business evolves, so do your gas detection requirements. That's why the IntelliDox system offers flexible configuration options to meet your changing needs. You have the power to configure low and high alarm points, as well as other detector parameters, throughout the lifespan of the detector. This means that your detectors will always work the way that you want them too, providing a far safer environment and reliability in what could be a critical situation.

Efficient networking and data transfer
Keeping track of gas detection data and maintaining accurate records is essential for compliance and safety. The IntelliDox system simplifies this process through efficient networking and data transfer capabilities. You can now use either USB or Ethernet connections to transfer bump tests, peak exposures and other gas detection data. This feature allows for seamless record-keeping and means that you can track worker compliance, which, of course, makes for a safer environment.

A new level of customization for device management
With the IntelliDox System, you will have access to a far greater level of customisation through the innovative Safety Suite Device Configurator. This extremely intelligent software empowers you to tailor the system exactly as you need it to be, so it's completely in tune with your organisation.

In fact, the IntelliDox system comes packed with so many industry-leading features and benefits, we've highlighted them in this handy checklist:
FastBump Test - the revolutionary FastBump test eliminates bottlenecks, providing fast results without wasting valuable gas through purge cycles.
Expandable Design - the system is gangable up to five modules, each equipped with its own LCD screen and keypad for independent operation. This expandable design allows you to scale your instrument management as your needs grow.
Easy Setup - with no tools required, setting up the IntelliDoX system is a breeze; it's specifically designed to simplify turnarounds and minimize downtime.
Versatile Connectivity - the system can be easily connected to a network via ethernet, and a USB port is available for configuring dock module settings or retrieving data without network access.
Automated Operations - the IntelliDoX system automates bump testing and calibration operations, reducing the time and effort required for routine maintenance.


Compatibility, options and EGM support
The IntelliDoX system is also compatible with a wide range of detectors, including the following products:
Honeywell BW® Clip Series
Honeywell BW™ Solo
Honeywell BW™ Clip4
Honeywell BW™ MicroClip Series
Honeywell BW™ Ultra
Honeywell BW™ MaxXTII

We also offer various options and accessories, such as the Multi-Inlet Key, which allows a single IntelliDoX module to connect multiple calibration gas cylinders.

The IntelliDoX automated instrument management system undoubtedly stands out as a game-changer and, as always, you can count on us for a free pre-sales consultation and technical support throughout the lifespan of your system.