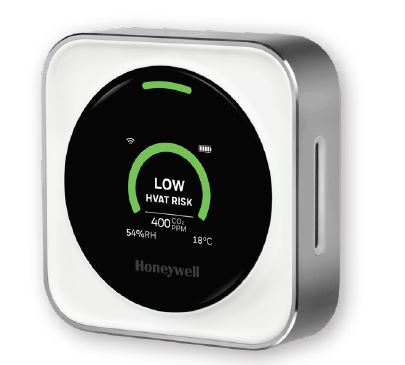 Keep Covid-19 at bay
We know from watching the news that Covid-19 (and other coronaviruses), have far more difficulty spreading in well-ventilated areas. There are currently discussions taking place in conjunction with SAGE to determine how much ventilation is deemed adequate, and will be soon be new Health and Safety legislation.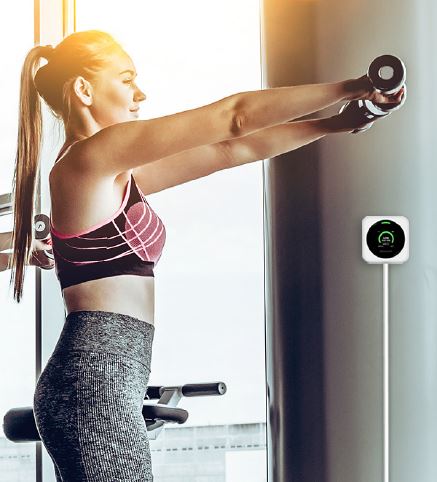 How to measure ventilation
How well ventilated is your building? It's not always as simple as opening windows and doors, especially in the British climate, or with variable factors like a changing footfall, exercise levels or central heating. To make things easier, the new Honeywell monitor measures levels of ventilation by the amount of CO2 present in the air.
The amount of CO2 that we measure in the air lets us know how much oxygen is being used up and exhaled by people who are present. Research conducted by scientists at the University of Colorado has shown that real-time monitoring of indoor, ambient air can be a very good indicator of the increased risk of airborne viral transmission.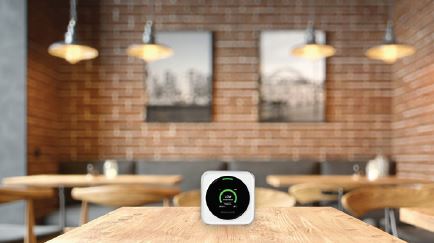 Keep safe
Therefore, it's essential to keep the quality of our air good. Dr Linsey Marr, engineering professor, avid exerciser, and one of the world's leading experts of viral transmission advises, "Trying to keep indoor carbon dioxide levels even lower, to around 500 parts per million, and to increase ventilation if the number begins to creep toward 600".
Tailored for your environment
The new Honeywell device comes with three pre-programmed indoor activity settings:
low, medium, and high activity, and is recommended for a coverage of 800- 1000 square feet. For each setting, the monitor provides indications using a traffic light pattern (green, yellow, or
red) and a sound alarm, so users are made aware of conditions that may increase the risk of airborne transmission based on detectable CO2 levels.
Green (Low Activity) - This indicates an environment used for reading, quietly talking, 6-foot social distancing, and activity that lasts less than 30 minutes.
Amber (Medium Activity) - This indicates an environment where people may be eating, talking loudly, 6-foot social distancing, and activity that lasts less than 45 minutes.
Red (High Activity) - Is suitable for an environment where people may be running, jumping or exercising. There may be limited social distancing and a higher exhalation rate, and activity that lasts more than 45 minutes.

Please see here for further product information https://www.egm-ltd.com/fixed-gas-detection-systems/honeywell-fixed/CO2-Risk-Monitor
Contact us for more information
We all want to get back to business in the safest way possible, so it's not surprising that we've had lots of early enquiries for this brilliant new product. If you'd like more information, we're happy to help.
As
the only Honeywell approved Master Service Centre in Scotland, we can not only advise, but also carry out a full range of services, including warranty repairs.